Vishwakarma Yojana Login – Friends, as we all know that PM Vishwakarma Kaushal Samman Yojana has been announced by the Central Government for the people doing work like craftsmanship and handicraft. While addressing the people on 15th August, the Prime Minister of India Narendra Modi said that all the people belonging to Vishwakarma community have an important role in maintaining the economy of India, due to which PM Vishwakarma Yojana is being started for them. The total budget of this scheme will be Rs 13 thousand crores. On 15th August, Narendra Modi ji said that PM Vishwakarma Kaushal Samman Yojana will be launched on Vishwakarma Jayanti i.e. 17th September 2023.
PM Vishwakarma Kaushal Samman Yojana Official Portal has been launched by the Central Government. Now you can create your account and apply online to avail the benefits of this scheme. Before logging on to this portal, you will have to create a Vishwakarma Yojana account. The method of registration and login dashboard for PM Vishwakarma Kaushal Samman Yojana has been made available to you in this article.
PM Vishwakarma Kaushal Samman Yojana
| | |
| --- | --- |
| Scheme Name | Vishwakarma Yojana |
| launched by | Central government |
| State | All India |
| Objective | Financial help to small artisans |
| how much money will you get | 2-3 lakhs |
| Vishwakarma Scheme Start Date | 15 August 2023 |
| Department Name | Ministry of Vishwakarma Yojana Affairs |
| Social class | government scheme |
| official website | https://pmvishwakarma.gov.in/ |
Vishwakarma Yojana Login
Step 1- First, visit https://pmvishwakarma.gov.in, the PM Vishwakarma Kaushal Samman Yojana's official website, and click on Login.
Step 2- After clicking on the login button, many options for login will appear in front of you like, Applicant/Beneficiary Login, CSC Login, Admin Login, Verification Login, Lending Institution/DPA Login, TP/TC Login, all these options will appear in front of you. . You have to click on the first option "Applicant/Beneficiary Login".
Step 3- In the third step, a login page will appear in front of you, first of all you have to enter your mobile number. You have to enter the same mobile number with which you have registered at the time of registration. After that, you have to fill the Captcha in the box below and click on the Login button, your account will be logged in.
Note – To login to the portal of PM Vishwakarma Kaushal Samman Yojana, it is mandatory to have an account for this scheme, if you have not applied online for this scheme then you cannot login to this portal.
Information about how to register for PM Vishwakarma Kaushal Samman Yojana is given in detail below.
PM Vishwakarma Kaushal Samman Yojana Registration
If you are eligible for PM Vishwakarma Kaushal Samman Yojana and you want to apply online for this scheme, then the method of applying online has been explained to you step by step below. To ensure that you do not face any problem while applying, we have used photographs which will make it easier for you to understand.
Step 1- Now that you've reached the website's home page, click the Login button and choose "CSC- Register Artisans" to apply online.
Step 2- The username and password that you used to create your account here must then be typed.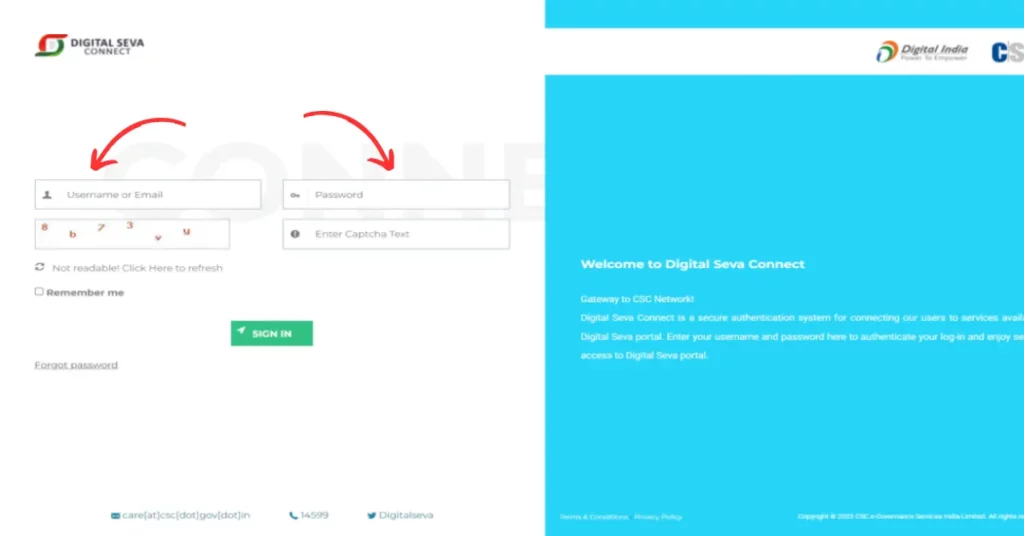 Step 3- The following stage will question you if you have any government employees living in your home. You must choose "NO". The question "Have you taken a loan before this in the last five years under the government scheme?" will appear below that. You must choose "NO" there before pressing the "Continue" button.
Step 4- You must input the "Mobile number" associated with your Aadhar card in the following step. Enter your "Aadhar card number" after clicking the "Term and condition" box, then click "Generate OTP" to proceed.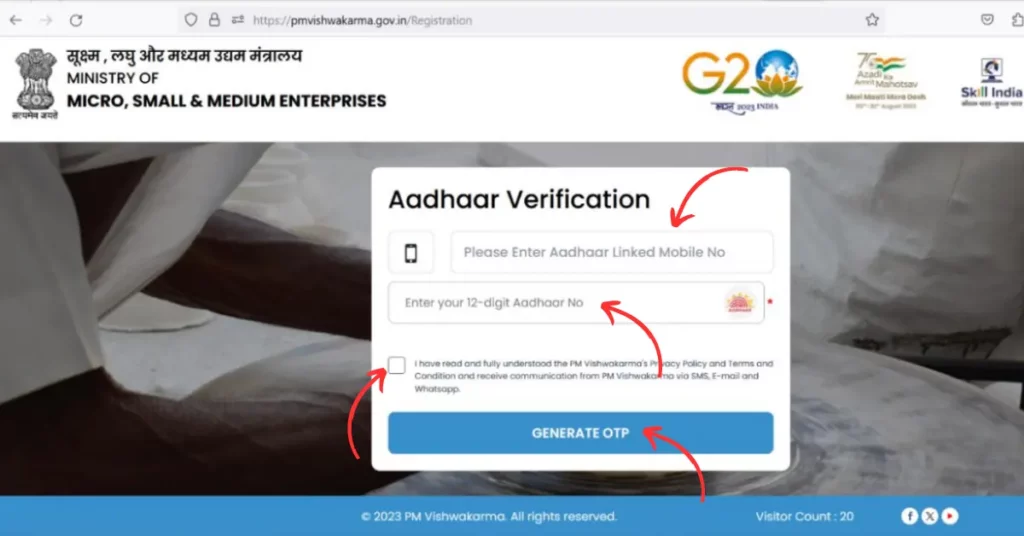 Step 5- A six-digit OTP will be provided to your mobile number once you click Generate; you must "enter that OTP" here before clicking Continue.
Step 6- You must authenticate with your Aadhaar after clicking Continue. You must check the terms and conditions and click "Verify Biometric" to complete the biometric verification.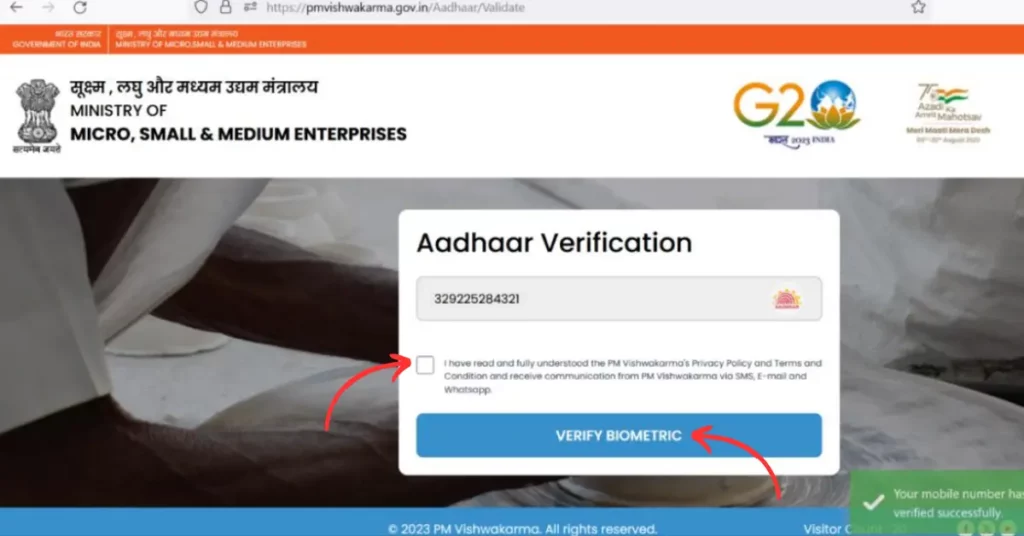 Step 7- The following step will open a form in front of you, which you must fill out with the basic data from your Aadhaar, including your name, father's or spouse's name, date of birth, and gender. Following the marital status, the artisan category (General/SC/ST/OBC) must be chosen. The next step is to determine whether the applicant is disabled or not, and if so, what kind of disabled person he is. The next step is to choose if the artisan operates in the same state or not and whether or not they fall under the minority category (if they do, choose that category).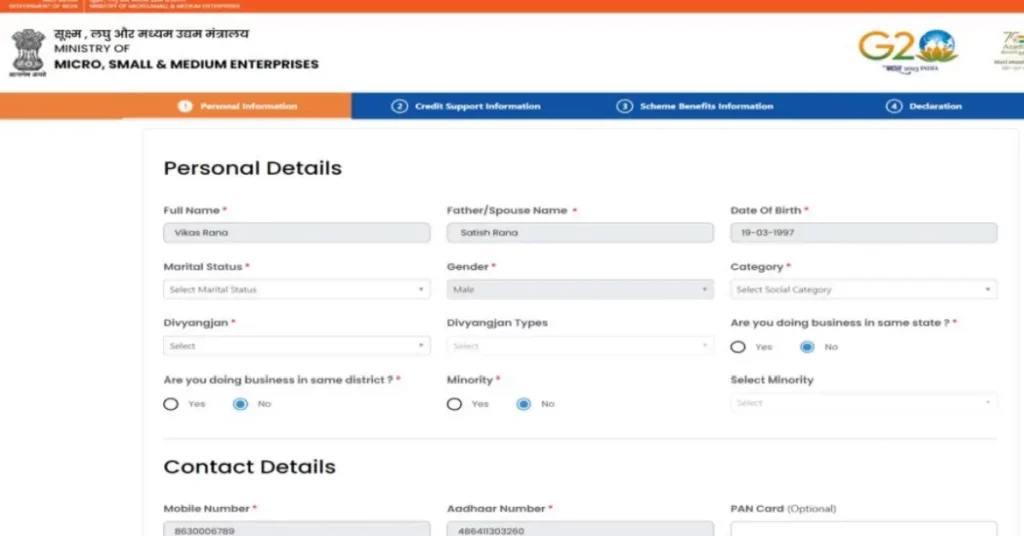 Step 8- Your mobile number and Aadhaar number will appear on the page of contact information that opens up after that. You can also input the PAN card number if you'd like.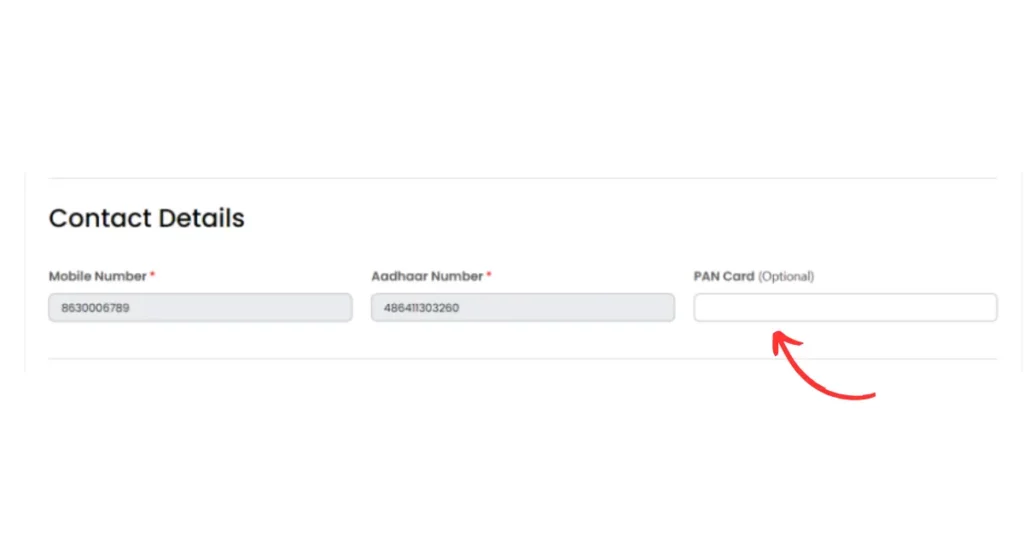 Step 9- If your Aadhaar card and ration card are linked, your family information will be placed into the family details section automatically. If they are not linked, you will need to manually enter that information.
Step 10- Address, state, district, and pin code information from the Aadhar card will be automatically input. You must select "Same as Aadhar Address" if your current address matches that on your Aadhar Card. The next step is to decide whether the craftsman is a part of the Gram Panchayat or not. If it is, click the block and choose the Gram Panchayat.
Step 11- In the "Are you covered under Gram Panchayat" question, choose "NO" if the artisan is from an urban area. Select the name "ULB".
Step 12- If the Aadhaar Address differs, choose "Others" and indicate whether the artist falls under the purview of the Gram Panchayat or not before providing the current address information.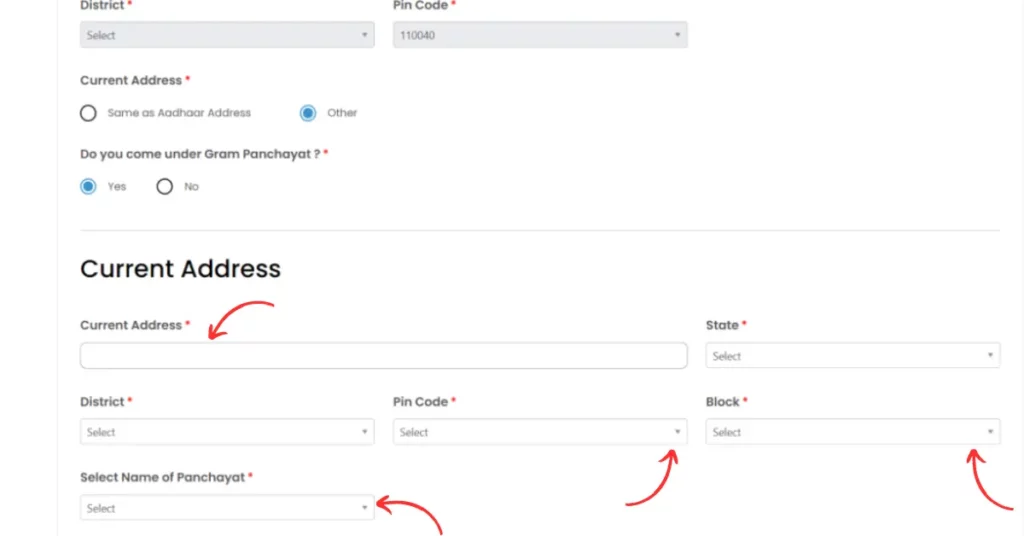 Step 13- After that, a choice to provide company information will display in front of you; you must first pick "Profession/Trade" Details, then select Sub Category. Select "Same as Aadhar Address" and then select "Next."
Step 14- Select the Other option and enter the business address if it differs from your present address and Aadhaar.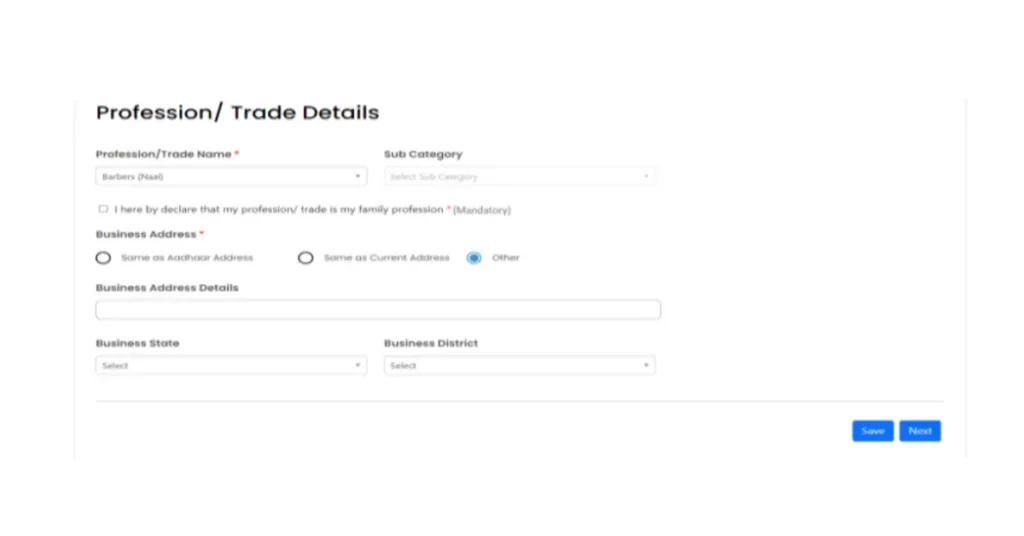 Step 15- You will have the chance to provide bank information in the following stage. Enter the name of the artisan's bank account, the IFSC code, the name of the bank branch, the account number, and then enter the account number again below to double-check it.
Step 16- Choose "Yes" or "May be later" in the "Credit Support" section to indicate whether the artist needs credit help. If so, enter an amount up to Rs. 100,000. If artisans want to take a loan in the same savings bank or branch, they should choose the same bank or branch as their savings account.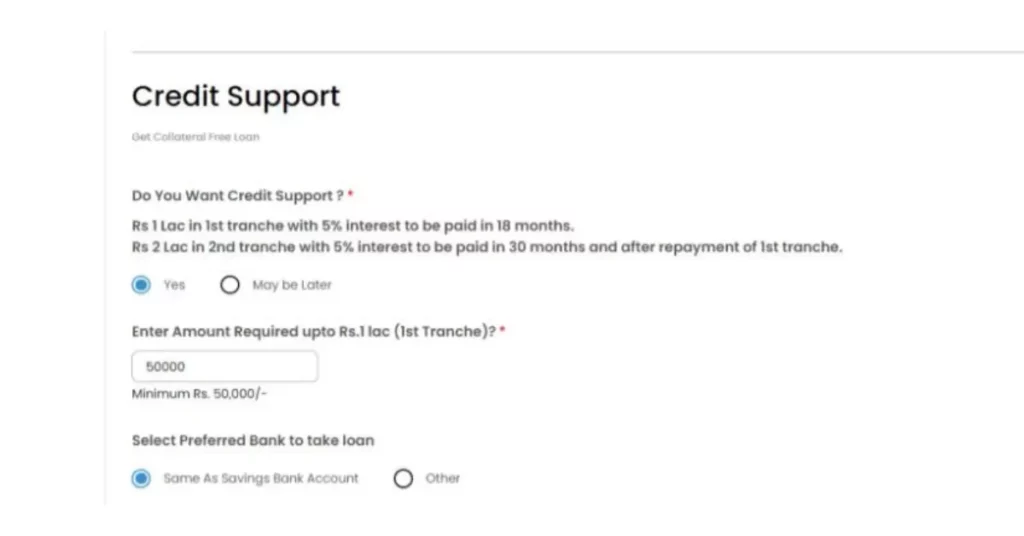 Step 17- Alternatively, if artisans wish to borrow money from a different bank branch, they should choose another, then the bank and branch they want to borrow money from. Choose the loan's purpose, provide details about any outstanding loans, if any, and your total monthly family income.
Step 18- The following step requires you to add your UPI ID; if you already have one, select "Yes" and fill out the "UPI ID details" box; otherwise, choose "NO." Clicking and entering the "mobile number" associated with the UPI ID below is required.
Step 19- In the Skill Training Section and Tool kit section, read and understand the scheme component benefits.
Step 20- Select all the types of facilities you need in marketing support.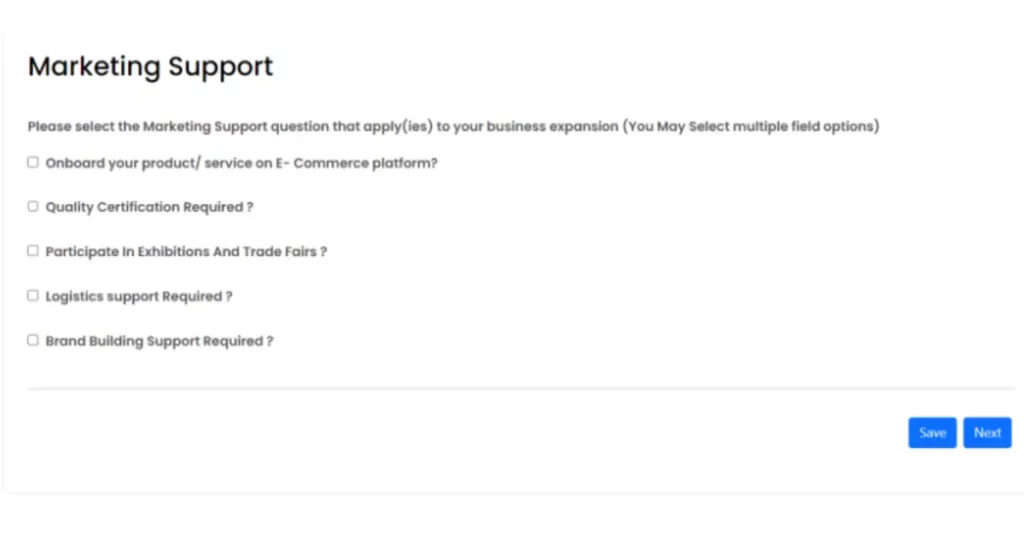 Step 21- Select all the types of facilities you need in marketing support.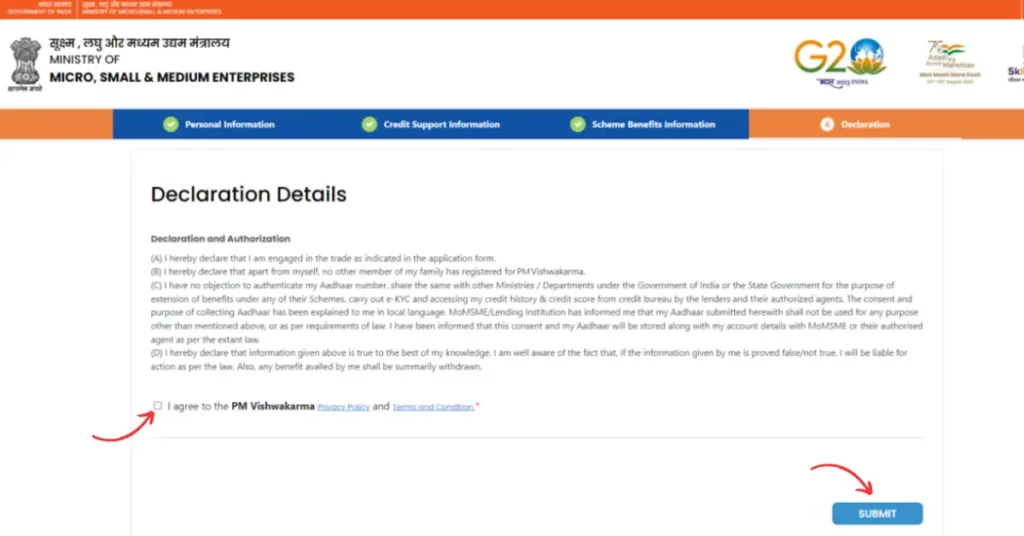 Step 22- After allowing the terms and conditions, your online application for Vishwakarma Kaushal Samman Yojana will be successfully submitted.
Vishwakarma Yojana Eligibility Criteria
To be eligible for registration under PM Vishwakarma, an artisan or craftsperson must use their own hands and tools while working in one of the 18 family-based traditional trades included in the plan, in the unorganized sector, and on a self-employment basis.
The beneficiary must be at least 18 years old on the registration date.
The recipient must be working in the targeted industry as of the registration date and must not have taken out loans under PMEGP, PM SVANidhi, Mudra, or other credit-based programs for self-employment or company growth from the federal or state governments within the previous five years.
Only one family member may register for the Scheme and get benefits under it. A "family" for purposes of receiving benefits under the Scheme is defined as the husband, wife, and unmarried children.
Family members of employees of the government are not eligible for the Scheme.
PM Vishwakarma Scheme Objectives
A brand-new program called PM Vishwakarma aims to give traditional craftsmen and craftspeople comprehensive end-to-end support as they scale up their traditional goods and services. The following list includes the scheme's objectives:
To make it possible for craftsmen and craftspeople to be recognized as Vishwakarma, making them eligible to receive all of the Scheme's advantages.
To make available to them chances for relevant and appropriate training that will help them improve their abilities.
To support more advanced and cutting-edge equipment so that users' capabilities, output, and product quality are improved.
To make it simple for the intended recipients to obtain collateral-free credit and to lower the cost of borrowing by offering interest subvention.
To offer incentives for digital transactions to support these Vishwakarmas' digital empowerment.
To give them a platform for brand marketing and market connections so they can access fresh growth prospects.
Keep these things in mind before applying online
In order to apply for the PM Vishwakarma Yojana, you must have all the necessary documentation.
To avoid any issues when applying, you must ensure that all of your documents are current after finishing the required paperwork.
You must have an active bank account, and you must visit the bank to check on the accuracy of the transactions in your account.
Your Aadhaar card, which is the most crucial identity document, needs to be updated. You must ensure that your mobile number, name, and residential address are all accurate on your Aadhaar card.
Important Links